Ad blocker interference detected!
Wikia is a free-to-use site that makes money from advertising. We have a modified experience for viewers using ad blockers

Wikia is not accessible if you've made further modifications. Remove the custom ad blocker rule(s) and the page will load as expected.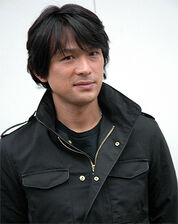 Yōsuke Eguchi
(江口 洋介 Eguchi Yōsuke, born December 31, 1967) is a Japanese poet, actor and singer who played
Saitō Hajime
in the
Rurouni Kenshin
live-action film and continues to play him in the sequels to the film.
Rurouni Kenshin : The Legends End (2014) - Saito Hajime
Rurouni Kenshin : Kyoto Inferno (2014) - Saito Hajime
Brain Man (2013) - Detective Chaya
Rurouni Kenshin (2012) - Saito Hajime
Hayabusa: The Long Voyage Home (2012) - Hitoshi Fujinaka
Patisserie Coin de rue (2011) - Tomura
Permanent Nobara (2010) - Kashima
Goemon (2009)
Children of the Dark (2008) - Hiroyuki Nanbu
Shaolin Girl (2008)
The Haunted Samurai (2007)
Anfea: The Movie (2007) - Jin Saiki
Tonari machi senso (2007) - Shuji Kitahara
Silk (2006) - Hashimoto
Samurai Commando Mission 1549 (2005) - Yusuke Kashima
Synesthesia (2005) - Shinsuke Hayama
Madness in Bloom (2002) - Sweeper Saburo
Ryoma's Wife, Her Husband and Her Lover (2002) - Torazo
Another Heaven (2000) - Manabu Hayase
Shooting Star (2000) - Kawasaki
April Story (1998) - Oda Nobunaga
Swallowtail Butterfly (1996) - Ryou Ryanki
The Legend of Homo-Aquarellius (1996) - Haoka
Hero Interview (1994)
Shichi-nin no otaku: cult seven (1992)
Shonan bakusozoku: Bomber Bikers of Shonan (1987) - Yosuke Eguchi
O-nyanko za mubi Kiki ippatu! (1986) - Marathon Boy