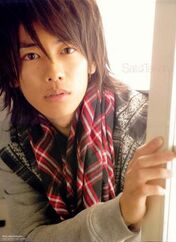 Takeru Satō
(佐藤 健 Satō Takeru, born 21 March 1989) is a Japanese actor and singer who played
Himura Kenshin
in the 
Rurouni Kenshin
live action film and continues playing him in the sequels. He previously starred in other movies based on the manga -
Beck
and
Bloody Monday
. Both he and director Keishi Ohtomo previously worked together for the 2010 television series
Ryomaden
. Sato trained and practiced Kendo, in order to better play the role of Kenshin.
Most notably, he played Ryotaro Nogami, the main character in Kamen Rider Den-O.
Ad blocker interference detected!
Wikia is a free-to-use site that makes money from advertising. We have a modified experience for viewers using ad blockers

Wikia is not accessible if you've made further modifications. Remove the custom ad blocker rule(s) and the page will load as expected.