Ad blocker interference detected!
Wikia is a free-to-use site that makes money from advertising. We have a modified experience for viewers using ad blockers

Wikia is not accessible if you've made further modifications. Remove the custom ad blocker rule(s) and the page will load as expected.
In June 2011, Warner Brothers Japa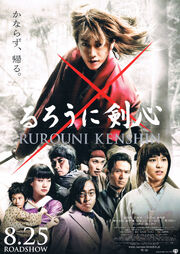 n and Studio Swan announced that a live-action film adaptation of
Nobuhiro Watsuki
's 
Rurouni Kenshin
manga series had been green-lit and had begun pre-production. The film stars Takeru Satō as
Himura Kenshin
and Emi Takei as
Kamiya Kaoru
. Keishi Ōtomo directed the live-action film and premiered in Japanese theaters on August 25th, 2012. The film did exceptionally well in box office grosses, earning over 300 million yen (over 5 million USD) on its opening weekend, beating out summer blockbusters including the Avengers. On September 1st, 2012, director Keishi Otomo and Takeru Satō announced that Rurouni Kenshin has been licensed for internation distribution in over 60 countries, and 17 more are still currently in negotiation.
Profile
Name: Rurouni Kenshin
Romaji: Rurouni Kenshin
Release Date: August 25, 2012
Runtime: 134 min.
Differences between the manga and the film Edit
In the manga, Saito Hajime meets Kenshin again by going to Kaoru's dojo to warn him about Shishio. In the film, Saito meets Kenshin in the prison while investigating about the assassinations assumed by Battousai.
In the manga, Takeda hires the Oniwabanshu as bodyguards. In the film, the Oniwabanshu is absent, instead, Takeda hires Gein and Banjin as bodyguards and Udo Jin-e as agent.
In the manga, the character behind the assassinations assumed by Battousai is Hiruma Gohei. In the film, Udo Jin-e is the one behind the assassinations.
In the manga, Sagara Sanosuke meets Kenshin after make a deal with the Hiruma brothers, has his Zambatou cutted by Kenshin and is defeated by him, before Kenshin even met Udo Jin-e and Kanryu Takeda. In the film, Sanosuke meets Kenshin in the prison, when Kenshin had already met Udo Jin-e, and after is been released makes an offer with Kanryu Takeda, but ultimately drops, and he's not defeated by Kenshin, neither Kenshin cuts the Zambatou.
In the manga, Kenshin beats Takeda with the help of Oniwabanshu. In the film, Kenshin defeats Takeda with the help of Sanosuke and Hajime Saito.
In the manga, the battle against Udo Jin-e happens before Kenshin met Megumi. In the film, Kenshin fights Udo after Megumi is rescued.
Making Of - Behind the Scenes of Kenshin Live ActionEdit