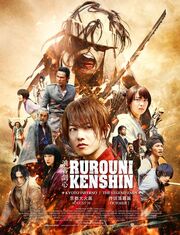 On June 21st, 2016, Funimation Films announced that they acquired the rights to the Rurouni Kenshin live-action trilogy. The three films, distributed by GAGA Corporation, include Rurouni Kenshin: Origins (renamed for the re-release), Rurouni Kenshin: Kyoto Inferno, and Rurouni Kenshin: The Legend Ends. The movies will be released in Japanese language with English subtitles and will be released sequentially during fall 2016. The license covers North American theatrical, home video, video on demand, and broadcast distribution.
Profile
Name: Rurouni Kenshin: Kyoto Inferno
Romaji: Rurouni Kenshin Kyoto Taika Hen
Release Date: August 1, 2014
Runtime: 139 min.
Ad blocker interference detected!
Wikia is a free-to-use site that makes money from advertising. We have a modified experience for viewers using ad blockers

Wikia is not accessible if you've made further modifications. Remove the custom ad blocker rule(s) and the page will load as expected.