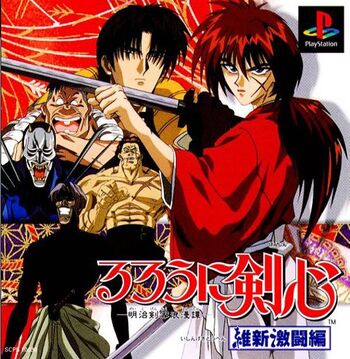 Rurouni Kenshin: Ishin Gekitouhen is a 3D fighting game released for the Playstation (with a similar action timing to that of Tekken 1 & 2) which reproduces the first story arc of the Rurouni Kenshin anime series. Here your fighting possibilities will depend of 4 buttons, two working for either high or low attacks (which pushed together will execute a special move) and the resting two for different kinds of blockings.
Game Modes
Edit
Game modes are history and VS. History mode begins with the battle against Sanosuke, who will join you once you defeat him until the end of the game, being an alternative character to Kenshin. After that point, your rivals are: Jine, Hyottoko, Hannya, Shikijou and Aoshi. VS Mode includes all the characters above mentioned as playable, with the option of unlocking a secret one.
Playable Characters
Edit
Ad blocker interference detected!
Wikia is a free-to-use site that makes money from advertising. We have a modified experience for viewers using ad blockers

Wikia is not accessible if you've made further modifications. Remove the custom ad blocker rule(s) and the page will load as expected.