Ad blocker interference detected!
Wikia is a free-to-use site that makes money from advertising. We have a modified experience for viewers using ad blockers

Wikia is not accessible if you've made further modifications. Remove the custom ad blocker rule(s) and the page will load as expected.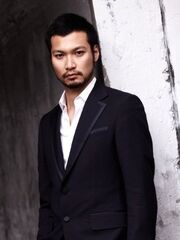 Munetaka Aoki
(青木崇高) (March 14, 1980) is a Japanese actor who played
Sagara Sanosuke
in the
Rurouni Kenshin
and continues playing him in the two  sequels. He is best known for his roles in
Battle Royale II
and
Hara-Kiri: Death of a Samurai
.